Associations and Awards

Richard is an active member of the Pinellas Park Art Society, Beach Art Center, Tampa Realistic Artists and The Exhibiting Society of Artists. He is also a member of the Florida Watercolor Society.

An award-winning artist, Richard has exhibited in many local galleries – Artist's Gallery Royale (Saint Petersburg, Florida), Joe Mathis Gallery (Punta Gorda, Florida), Finley-Hall Gallery (Gulfport, Florida), Kotler Gallery (Tampa, Florida), and the Croatian Native in Saint Petersburg. Richard is featured in many local shows. His work is in permanent collections throughout the United States and Europe.

"As far back as I can remember, I've always had a strong interest in the arts. Especially painting and drawing. My interest was greatly fostered by my parents and grandparents. It was assumed that my life's occupation would be in the arts. It was teaching. I can't imagine going through a day without art."

Welcome to my new website. You are visitor number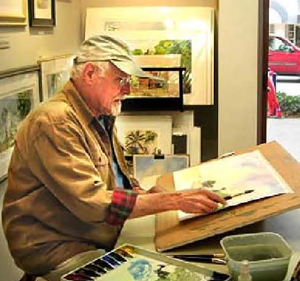 Richard Jansen moved to Florida in 1995 from the Hudson Valley area of New York. He enjoys the relaxed lifestyle that comes with living on St. Pete Beach. Richard is currently serving as President of the Pinellas Park Art Society.

He graduated from the State University of New York, New Paltz with a Bachelors Degree in Art Education and Art History. He earned a Masters Degree in Education from Bank Street College in New York and an Associates Degree in Education from Crewe College of Crewe, England. Seventeen years of his thirty-four –year teaching career were spent teaching art. Richard taught third grade in New York's Hyde Park Central School District the remaining seventeen years.

Training

Since his move to Florida, he has studied at the Gulf Coast Art Center with Florida Watercolor Society's Taylor Ikin and Pat Weaver. He has studied with Cecile Moran White, Fred France, Ed Bookmeyer, Harold Johnson, Gerald Brommer, Dick Hutchinson and, most recently, Tom Jones, Chuck Hager, Herbie Rose and Doug Tiller.

Having experienced a variety of media, Richard is currently enjoying success with watercolor – and sometimes watercolor wash with ink and collage. Richard didn't start painting with watercolors until fifteen years ago when he retired. He enjoys paining land and seascapes. Florida landscapes and lighthouse have become a specialty. Having worked with so many instructors, he simply takes what he can use and applies the experiences.